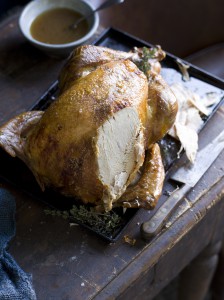 No roast desiccates more easily than a big-breasted turkey—it's a multidimensional anatomy problem. Turkey breast meat is finished cooking 10°F/5°C lower than the leg meat, so it is nearly impossible to get them perfectly cooked simultaneously. Miraculously, at least in its simplicity, the problem disappears when you slow-roast. By setting the oven temperature between the doneness temperatures of the breast and the leg, you cut your losses on both ends. The breast meat warms gently throughout, no section ever gets hotter than another, and the whole bird emerges moist and succulent.

Remove the giblets from the turkey and discard (or save for another use). Rinse the turkey inside and out and pat dry with paper towels. Rub it all over with salt and pepper. Refrigerate, uncovered, for at least 12 hours and up to 24 hours. During that time, the surface of the turkey will become visibly dry and the skin will tighten; this encourages a nice crisp skin on the finished bird.

Remove the turkey from the refrigerator 1 hour before you plan to start roasting. Preheat the oven to 450°F/230°C/gas 8.

Put the turkey on a rack set in a large, flameproof roasting pan. Drizzle the olive oil over the top.

Roast for 1 hour. Reduce the oven temperature to 175°F/80°C. Pour the cider into the roasting pan and sprinkle the poultry seasoning in the liquid. Continue roasting until an instant-read thermometer inserted into the thickest part of a thigh (but not touching bone) registers 170°F/77°C, about 12 hours.

Transfer the turkey to a carving board, tent loosely with aluminum foil, and let rest for about 15 minutes. Meanwhile, skim the fat from the surface of the liquid in the pan. Put the roasting pan over two burners and bring the pan drippings to a boil over high heat. Cook until the juices reduce and thicken slightly, enough to coat a spoon, about 10 minutes. Taste for seasoning. Carve the turkey and serve with cider pan juices.
Chilling time: 12 to 24 hours
Prep time: 5 min
Cook time: 14 hours or more
Store: for up to 3 days, covered in the refrigerator. Reheat gently in a low oven.