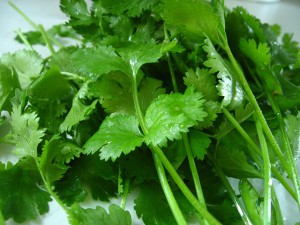 From Faith — We've made this Cilantro-Garlic-Scallion Salad four times already at our house and see no reason to stop. The fact is, we want the sauce on everything, so we serve this as a side salad, or add things to make it a main course. 
What's fabulous about this salad is the clean, fresh taste of the ingredients, and the swoon-worthy dressing, which includes rice wine vinegar, garlic, dark toasted sesame oil, a touch of sugar, a dash of hot pepper, and chopped scallions, cilantro and cucumbers. Put it all together and it zings every taste bud in your mouth.
To make this a main dish salad, we add some type of shredded protein, including rotisserie duck or chicken we buy already made, fresh sliced tuna steak (not canned), chopped cooked shrimp, sliced beef steak, or sliced pork. Sliced fresh salmon or swordfish would work, too.  (When we're making this as a main course, we double the dressing.)
Just before serving we add a squeeze of fresh lime and top the whole thing with a generous portion of chopped roasted and salted peanuts, but, hey, that's just us.
Seriously, this is our number one crazy delicious salad for summer, or all year, and it's absurdly easy to make.
(We thank the Food Network magazine for giving us the basic idea for this salad, which we have adapted in a variety of ways.)
Quarter the white parts of the scallions lengthwise; thinly slice the green parts. Soak it all in cold water for 15 minutes, then drain. (Sometimes we don't even bother to soak the scallions.)

In a bowl whisk together the rice vinegar, garlic, and the sesame and chili oils, along with the sugar. Toss with all the drained scallions, the chopped cilantro, the serrano strips, and the cucumber strips. (Faith adds a quick spritz of fresh lime for brightness. Taste to see what you'd like to add, if anything. Our favorite is chopped salted, roasted peanuts on top just before serving.) This one's a winner - enjoy!