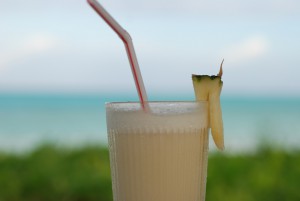 From Faith: Normally I drink coladas under a palm tree for a week in the winter, but when I tried contributor Anthony DeSerio's healthy piña colada, I knew it would be a go-to cocktail for friends straight through September. (Or longer!)
Anthony said his first interest was in getting rid of that "blue can" store mix and substituting Greek yogurt and coconut water. To get the extra hint of vanilla Anthony likes in this drink, he says choose a rum with vanilla notes, such as Myers or Goslings. And if you or your guests cannot have milk or cream, soy or almond milk can be used instead.
"This cocktail is more work than using the store mix but it's worth it," Anthony says. "Besides, these are the dog days of August!"
Anthony DeSerio is a frequent contributor and a Connecticut bartender. He is a proud member of the U.S. Bartenders' Guild, Connecticut Chapter.

Pour all ingredients into a blender, cover, and blend until smooth and ice cold. Pour the drink into your favorite glass and enjoy!