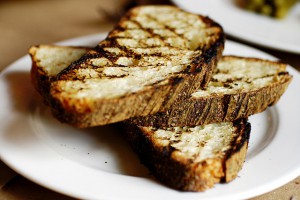 Putting a mouth-watering combination of things on top of bread, drizzled with olive oil and grilled golden brown, is as easy as it is delicious. On each of our grilled "rafts" we give you two or three ingredients that are terrific together as apps, or you can put out a platter of several types as a tapas-style meal. Contributors include our Food Schmooze team, along with Giada DeLaurentis and Ted Allen of The Food Network.

Top the grilled bread with crumbled feta, chopped Kalamata olives, and a squeeze of fresh lemon juice.

Spread the grilled bread slices with a little mayonnaise, diced cherry tomatoes, and crisp, crumbled bacon.

In a bowl mix together chopped cooked shrimp, a little mayonnaise and yogurt, and curry powder to taste. Put some on each grilled slice.

Spread the grilled bread with a little garlic chili sauce from the Asian section of the supermarket, add diced cooked chicken and chopped scallions.

For dessert, top each slice of bread with semisweet chocolate chips and a sprinkling of unsweetened coconut. As soon as the chocolate gets soft, serve.
Giada DeLaurentis, The Food Network magazine:
Cover the grilled bread with Gorgonzola cheese and toasted walnuts. When it has melted, drizzle with local honey and serve.
Sauté tomatoes in olive oil.

Top the grilled bread with sautéed tomatoes, a little sea salt, and Parmesan cheese.
Ted Allen, The Food Network magazine
Rub each slice with garlic clove before grilling. When it is grilled, place a tablespoon or two of ricotta cheese on each slice of bread, top each one with a leaf of arugula, and top again with a very thin slice of prosciutto. Close the lid for a minute to warm it up.
Parmesan Aioli: Take 0.5 cup of prepared mayonnaise, 0.5 cup of grated Parmesan cheese and 6 cloves of chopped garlic, place in a bowl and mix well.

Spread on toasted bread and place under broiler until browned and bubbly.