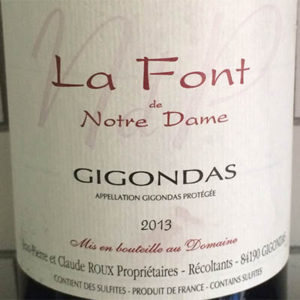 When we asked Alex to suggest a wine with coffee notes, he knew just what to offer up. The La Font de Notre Dame Gigondas 2013 (France) has notes of not only coffee—mocha, specifically—but also black licorice and berry. It's deep, with a complexity you'd hope for when drinking a wine like this, but it's a fun wine, too. Not too stuffy or aggressive.
Perfect with grilled and roasted lamb or beef, Alex imagined sharing this bottle with friends over BBQ or anything prepared with a coffee rub.
In the $23 – $29 range, it's not a value wine, but worth a try for a special occasion. . .perhaps to celebrate the birthday of the friend you always meet for that mid-day Starbucks run.