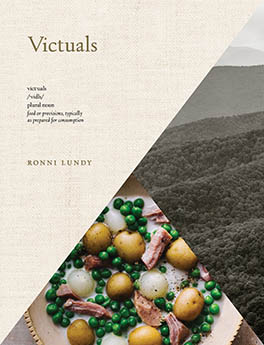 If you think that the food of the Appalachian mountains is merely roots, seeds, beans, and in the warmer months, greens, think again. Let Ronni Lundy be your guide in exploring the diverse—and yes, vibrant—food landscape of the southern Appalachian mountains.
Born in Corbin, Kentucky, Lundy is an expert on southern food (she wrote Shuck Beans, Stack Cakes and Honest Fried Chicken) and in her new book Victuals, pronounced /vi-dles/, she takes you along on her journey through Kentucky, West Virginia, Southern Ohio, northern Georgia, Tennessee, Virginia, and North Carolina.
ON-DEMAND: Listen to Faith and Ronni discuss this book on The Faith Middleton Food Schmooze®.
Photographed by Johnny Autry, Victuals is one of the most beautiful cookbooks of the year. Of course, he captures Lundy's recipes with a keen eye, but photos of the food's context are equally important in communicating the sense of place that will compel you to appreciate this land in a different way. You'll see mountains, of course; trees; wilderness; PEOPLE, on porches, playing music, or their hands working and cooking; animals—on farms!—in such a natural state that you can easily understand why their livestock is, well, delicious in a way only farm-raised livestock can be. Such care—and all captured gloriously.
You can not read this book (and hence, the many stories of Lundy's people), see these pictures, cook these recipes, and not want to trace Lundy's steps through the farms, kitchens, and restaurants (check out Main Street Meats, and Dancing Bear Appalachian Bistro), embodying the cuisine of people who understand how to live and eat really, really well off the land.
Start your journey with these recipes: (coming soon)
Colcannon
Rösti
Slow-Cooker Roasted Pork Shoulder
— Robyn Doyon-Aitken
Senior Producer