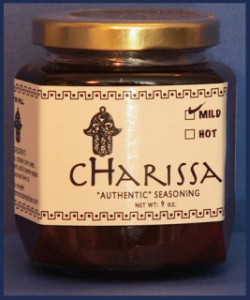 At the Greenport Farmer's Market on The East End of Long Island (North Fork), my partner and I discovered a Moroccan sauce in a jar that staggered us; it still does, and that's why we get it in multiples. This is a "charissa" sauce, normally too spicy for children and some adults, but this one was made by a Moroccan grandmother hoping to appeal to her American grandchildren.
Charissa, distributed by El Maleh Spice Souk, is a mixture of ground cumin, cracked cumin seeds, Spanish paprika, garlic, salt, cayenne pepper, lemon juice and olive oil.
I smear it on fish fillet, use it as a base for salad dressing, coat chicken breasts and lamb chops with it, mix it with mayo or yogurt to create a dip, toss shrimp with it and stir it into eggs. So far, and I know this is risky because there is a lot of living yet to do,  I would say this is my very favorite jarred sauce.  You'll find it at farmers markets and gourmet stores on The East End of Long Island, or check it out online at
Auauthenticmoroccanspice.com
.