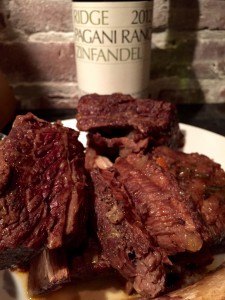 There's no need to be afraid of making short ribs at home, the kind that become fork-tender from being braised in the perfect red wine, Zinfandel.
Start by heating up a Dutch oven and browning the ribs in oil. Once beautifully golden brown, remove and set aside. Now in the same pot, sauté onions, garlic, carrots, and celery. After a few minutes, add a little tomato paste, and a tablespoon of flour to help thicken and continue to stir for a moment or two.
Chuck the ribs back into the pot and now dump in a bottle of dry red wine and bring to a gentle boil. Continue to cook until the liquid is reduced by half and then cover and put into a 300 degree oven for 2-3 hours or until the meat us falling of the bone tender.
As for red Zinfandel, most stores carry a vast selection of this American treasure. Originally brought over to California by Italian immigrants in the late 1800's, this grape has happily been thriving here ever since. And actually, many of the original vines that are over 100 plus years old, are still producing grapes today… talk about heritage!
The flavor of red Zinfandel is intensely rich and fruity which makes it the perfect pairing with short ribs. Because it's not wimpy, it holds up well against the rich flavors of the short ribs and the fruitiness of the wine helps balance out the fattiness of the ribs.
Try this pairing out, I promise you will love it!
–Alex Province