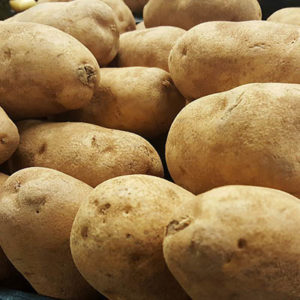 Think lemon zest, fresh chopped basil, butter and goat cheese. On top of a baked potato? Wow! Thanks for this mouth-watering recipe from Faith's latest Home Star Cook, Dr. Carolyn Mazure, director of the invaluable Women's Health Research Department at Yale.
1. Pierce two russet potatoes all over with a knife or fork.
2. Dip the spuds in 1 tablespoon of a kosher salt and water brine mixture for 30 seconds, until they're wet. Place the potatoes on a baking rack on a baking sheet and bake in a 450 degree oven for 45 minutes.
3. Paint the skin with vegetable oil (to crisp) and bake for another 20 minutes.
4. Split the potatoes open immediately. Add 1 pat of butter, and salt and pepper (to taste) on each potato. In a small bowl, stir together 2 tablespoons of soft goat cheese, 1 tablespoon of chopped fresh basil, 1 teaspoon of lemon zest, and a drizzle of extra virgin olive oil. Top the potatoes with the mixture and enjoy!
— Faith