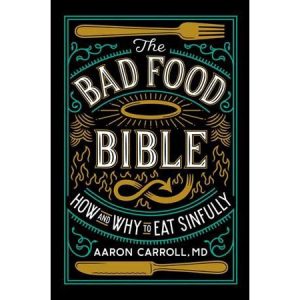 There are no recipes in Dr. Aaron Carroll's excellent book, The Bad Food Bible, well, except for one important recipe about what to fear and what not to fear about the daily food choices we make.
The Bad Food Bible's subtitle is "How and Why to Eat Sinfully." Sounds devilish, right? Or contrarian—until you return to this idea about food and fear.
Do you live with any anxiety about your food choices? Much as I try not to, I do sometimes. Do your food and drink choices upset somebody in your home? Do you sort of love junk food and been shamed for it, or do you preach the gospel of healthy choices? No matter where you are on this, if you're not anxious about what you're choosing, you're the exception. We read the news, talk to friends, and, if we can afford to, we worry about mercury in fish, hormones in meat, whether sugar will cause autism, whether our cooking vessels cause cancer or Alzheimer's, that food not grown locally is increasing global warming. We even worry now about cooking food at all because it ruins the nutrients.
The Bad Food Bible might ease your anxiety. Dr. Carroll looks at the best science, from his perspective, and offers answers to important questions. Is diet soda really bad for you or the kids…is organic more healthful and worth the money? What about eggs, coffee, alcohol, and butter? Meat vs. fish? GMOs, MSG? To get at the answers, which studies should we believe and why?
Here's the beauty about what Dr. Aaron Carroll has done in The Bad Food Bible. Like his colleague, best-selling author Nina Teischolz, who does the introduction for the book, Dr. Carroll decided to study the studies about food to figure out what to recommend to his patients and teach his medical school students.
He understands what most of us don't – what makes a study the gold standard of studies, and how often so many media outlets jump on a sexy-sounding study because it's interesting, provocative; it's news. The problem is that it wasn't necessarily a very good study. Yet we hear about that study over and over and start making choices accordingly. Why wouldn't we?
But think about this…we became fatter during the high-carb low-fat era, convinced by experts that it was the smart way to eat. I could go on. The way this works together at the intersections of research, media, government, the corporate world, regularly creates a misleading system, unless you know where and how to look for what's real. The Bad Food Bible is a good place to start. When you finish, you can read the more alarming food headlines you're inundated with with a bit more skepticism than you previously had and make food choices based on science, not fear.