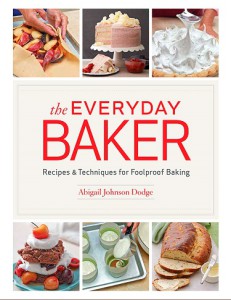 In her tenth cookbook, The Everyday Baker, Abigail Johnson Dodge makes you wish that you could bake every day. Flip through her book, and you'll want to bake your way from donuts to dinner rolls, from croissants to crumbles. There are plenty of savory recipes, too. The Salmon- and Spinach-Filled Crêpes look enticing, and it's easy to imagine her tendril-like cheese grissini in one hand and a glass of wine in the other.
Abby begins her hefty book with a "101" on the basic ingredients every baker needs. Don't skip the lesson. It matters whether you use cake flour vs. all-purpose flour. There's a reason why bakers use unsalted butter. She'll tell you why farmers' market honey is worth seeking out, and why you should always use the pan size specified in the recipe (we've all tried to get around this one, often with disappointing results).
I mentioned the savory offerings, but let's be honest. This is Abby Dodge we're talking about. She's a pie and tart queen. A pastry prodigy. A cookie genius. Go for the sweets.
Lots of the recipes for cakes, shortcakes, brownies, macarons, crisps, and cobblers are the classics you'd expect, but with what Abby calls "Flavor swaps" so you can make them your own or sub in a more seasonal ingredient. There are 176 recipes, but because so many of them lend themselves to (really good) variations, it feels like hundreds more.
Some of the more summery recipes will wait. Right now, I'm focused on the cookies chapter. The Bittersweet Chocolate Peppermint Thumbprints are a natural for any Christmas cookie platter, and if cookies are your canvas, bake the Vanilla Bean Cutouts. No worries, newbies: with Abby's step-by-step instruction, you'll be piping royal icing on those buttery beauties like a pro. Or at least someone who bakes everyday.
—Robyn Doyon-Aitken
Senior Producer