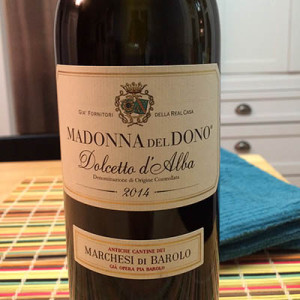 Normally, the beginning of spring evokes light, airy pastels. More often than not, we find ourselves making brunch and Easter toasts with clinking glasses filled with sparklers, whites and rosés. But, lamb (and other spring foods) have us seeing another color: red.
Introduced to us by Mark Raymond from Frederick Wildman and Sons and produced by Marchesi di Barolo in the heart of the Piedmont region, the Madonna del Dono, Dolcetto d' Alba, is a joyful wine that increased the pleasure of every bite of lamb we tasted during our pre-show gathering.
Dolcetto is the grape, and it means "little sweet one." It is a fresh, spring wine, made in stainless steel, not oak, making it especially refreshing. Mark loves its herbaceousness. Think: thyme and rosemary. It pairs perfectly with lamb, especially lamb prepared with garlic and those complimentary herbs.
One more color to consider: green. At $20 a bottle, the Madonna del Dono isn't likely to become your weeknight table wine all season long, but you'll find it so worth the money on the nights you do drink it.
—Robyn Doyon-Aitken
Senior Producer
Listen: This wine was featured during our spring food celebration. Listen to the show on-demand or subscribe to the podcast and never miss a drop.