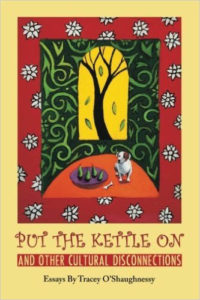 A girl cannot live on cookbooks alone, that's why this week, Faith is turning you on to a book of essays she absolutely loves. You're probably familiar with Tracey O'Shaughnessy's work in Waterbury's Republican-American (she's the Associate Features Editor). In her book, Put The Kettle On And Other Cultural Disconnections, you'll find Tracey's select columns from the paper, essays of course, and a few stand-out speeches.
• ON-DEMAND: Listen to Faith and Tracey talk about the essays in Put the Kettle On, as well as several local restaurants in and around Waterbury that Tracey considers worthwhile, though she does not consider herself qualified to make restaurant recommendations (we do!). See below for Tracey's picks. •
Tracey isn't just one of the best contemporary writers writing in Connecticut or New England right now, she's one of the best contemporary writers writing anywhere right now. She's a wise and attentive observer who can translate and articulate the human condition in a way that resonates. Perhaps that comes from years of writing about visual arts and theater. Fuzzy things, ever universal, become sharper in her description of them.
Whatever stage of life you are in, you'll find yourself here, nodding in agreement. If you're someone's daughter, mother or spouse. . .if you're a person who has ever loved a dog or lost a parent or took comfort from the shrill whistle of a grandmother's tea kettle (it was the gesture, not the tea), you will appreciate these essays every time you read them. You'll have favorites, and you'll go back to them, for different reasons every time.
— Robyn Doyon-Aitken
Senior Producer
***
Put the Kettle On, by Tracey O'Shaughnessy, is available for $15, payable to the author, at P.O. Box 94, Cheshire, Ct, 06410 or at Amazon.com.
***
Restaurant Picks:
La Tavola Ristorante, Waterbury  (Faith says the chef is awesome)
Viron Rondo Osteria, Cheshire
Good News Café, Woodbury
Oliva on Main, Bethlehem
Quench, Waturbury
Diorio Restaurant and Bar, Waterbury
Roma Ristorante, Oakville
Vasi's Restaurant & Bar, Waterbury
San Marino's Ristorante Italiano, Waturbury (For those who like their Italian sauce the Southern Italian way)