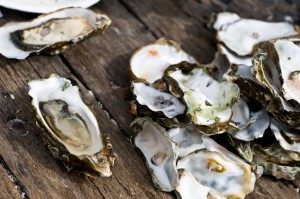 We agree. If you're after tasty, super-fresh oysters shucked the way they should be, head to the charming Oyster Club at 13 Water Street in Mystic, Connecticut.
Accompanied by Food Schmooze regular Alex Province, and Matthew Bennett, Faith and the guys dove into a large platter of Noank oysters, washed down with a chilled bottle of Sancerre. (Also try the Ninigret Nectars and Watch Hill oysters from Rhode Island, and the ones from Fisher's Island, N.Y.) Nice selection, and that's why Travel & Leisure named the place one of the top oyster bars in America.
We also enjoyed the homemade pasta, pan-roasted fluke, and Faith says the braised goat posole with hominy, cumin, pink beauty radishes and lime salsa is terrific. Alex and Matt keep a sailboat nearby. After many visits, they say the chef has a special way with braised meats.
If you're into quality farm-to-table ingredients, you'll have a seaport good time at The Oyster Club.