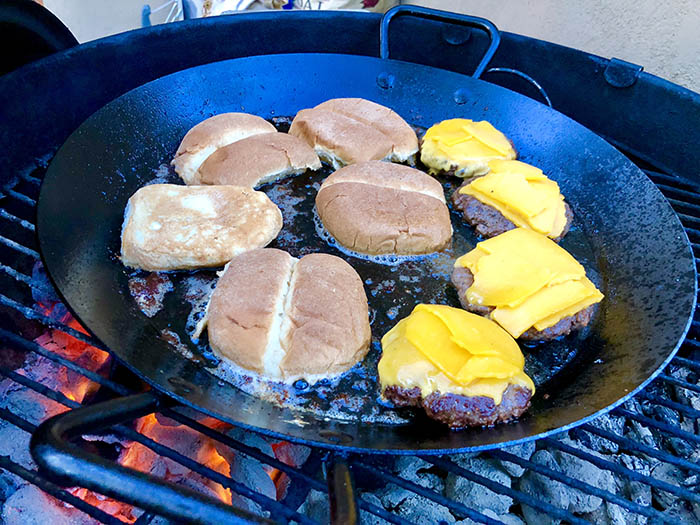 Alex Province has a tip to share. Of course, there's nothing better than gathering around a big paella pan, family-style, forks poking about for the best bites of crispy rice and savory shrimp. But did you know your paella pan can be used for more than making the traditional Spanish rice dish everybody loves? Pull that paella pan out of the cabinet to make smashed cheeseburgers on the grill.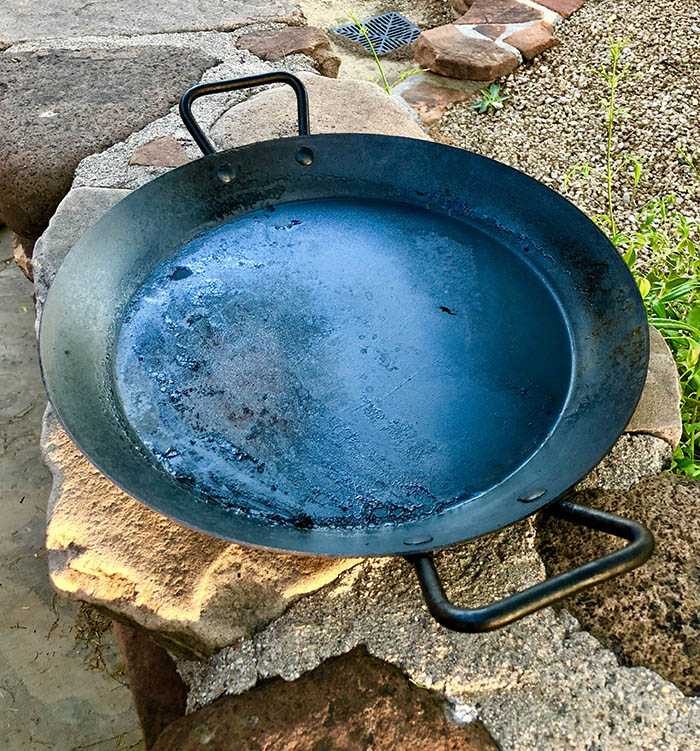 Paella pans are big; they feed a crowd. That's what makes them ideal for making smashed cheeseburgers on the grill. Most large grills can easily fit a 15-18 –inch pan, which is typically the largest pan paella fans have at home because that's what fits in the oven.
Lodge's heavy-duty 15-inch carbon steel paella pan fits perfectly on Alex's kettle grill, but he imagines that as long as your pan is heavy-duty and oven-safe, a large cast-iron pan for example, you can use his trick on any grill. Just don't forget your grill gloves. Either pan will be screaming hot. Paella pan handles make the pan easier to handle compared to an extra-large skillet.
The benefit to using a paella pan to cook the cheeseburgers is that you can fit many burgers on one pan. You can "smash" six to eight burgers in one pan. That's a party, right there!
Paella pans LOVE to be seasoned, too, so cooking a fuller-fat (85%) burger on a big pat of butter only makes the pan better the next time you use it. Though, obviously, you'll cook leaner burgers if you, or someone at the party, have dietary restrictions.