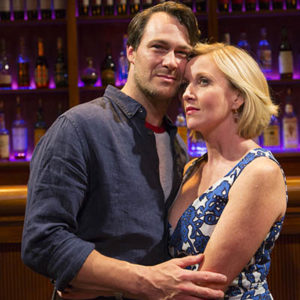 How lucky are we in New Haven? The renowned New Yorker writer Adam Gopnik debuts his new musical The Most Beautiful Room in New York in our own backyard at The Long Wharf Theater. We're huge fans!
Adam's musical is about food and family, focused around chef/protagonist David Kaplan (played by Matt Bogart) and his wife Claire (played by Anastasia Barzee). Listen to David describe the musical on The Faith Middleton Food Schmooze®.
Directed by Gordon Edelstein, with music by David Shire, The Most Beautiful Room in New York runs through May 28, so RUN to get those tickets now.
The cast includes Krystina Alabado (Anna), Anastasia Barzee (Claire), Matt Bogart (David), Darlesia Cearcy (Phoebe), Ryan Duncan (Gio), Danielle Ferland (Gloria), Anne Horak (Natasha/Franca), Tyler Jones (Bix), Constantine Maroulis (Sergio), Mark Nelson (Carlo), Sawyer Niehaus (Kate), Allan Washington (Irwin/Gabe).
Photo: Courtesy of The Long Wharf Theater