Challenged by Faith to invent a non-conventional pizza, senior contributor Alex Province checked his stash of canned goods and miscellaneous food items he and his husband, Matt, keep on hand for power outages and long boat trips.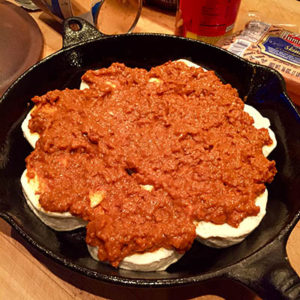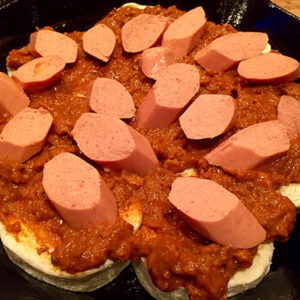 Sure, the images look like they're straight out of an episode of "Chopped," where chefs open a basket of mystery ingredients that you can't imagine could come together to make something delicious. But stay with me, here. (Matt was skeptical too).
What can you make with a tube of refrigerated biscuit dough, a can of Hormel chili, a bag of Mexican shredded cheese, and a couple of Hummel hot dogs? Biscuit Chili Dog Pizza. It's officially a thing.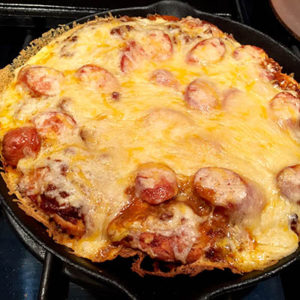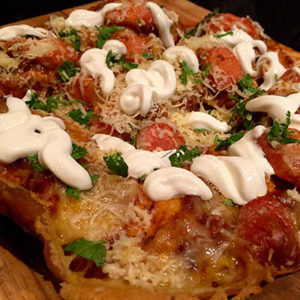 To dress it up, Alex finished it with fresh sour cream and cilantro, but this may have been a ploy to confuse Matt into thinking this pizza was the cousin of a beloved favorite, nachos.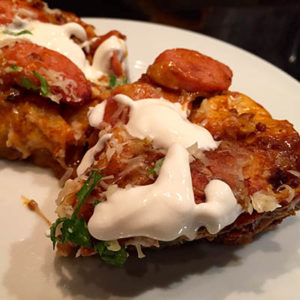 One bite and the once reluctant Matt conceded that Alex's Biscuit Chili Dog Pizza was actually a good idea. The couple found it comforting and fun to eat. Next time the power goes out, Alex totally knows what he's going to make.
Listen: Want to try this out at home? Listen to Alex describe how this pizza comes together.