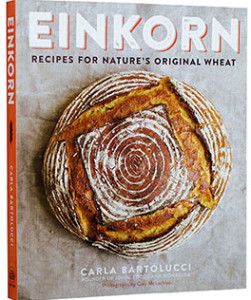 There is seemingly no limit to how the ancient and supposedly un-manipulated wheat, einkorn, can be used in recipes to replace modern wheat, with excellent results. This could be good news for some who are gluten-sensitive. The Connecticut-based company,
Jovial Foods
in North Franklin, is specializing in organic products made in Italy for those who are gluten-sensitive or with full-blown celiac disease, including einkorn, said to be 10,000 years old. Einkorn, which almost became extinct, has a different DNA structure from most wheat, but is NOT recommended for those with celiac disease, according to Jovial, though it is reportedly tolerated by some — and here we feel we should stress the word some —who are gluten-sensitive, including the daughter born to Jovial founders, Carla and Rodolfo Bartolucci. (The Bartoluccis divide their time between the company corporate office in North Franklin and its manufacturing facilities throughout Tuscany.)
Carla Bartolucci's cookbook,
Einkorn
, features recipes for Yogurt Blueberry Muffins, Spinach Lasagne Bolognese, Neapolitan Pizza Margherita, cookies, breads, sourdough starter, pies, tarts, pastries, pudding and street food.
Jovial's Einkorn flour and/or boxed pasta are sold in various chain stores, including Whole Foods and Fairway, and a number of independent health food markets such as Fiddleheads, Willimantic Food Co-Op, Foodworks, and Edge of the Woods. It's best to call ahead, we're told, to make sure the market you visit has the specific product you're looking for since Jovial also supplies major chains like Stop & Shop and Shop Rite with its organic gluten-free boxed pastas, jarred tomatoes, and Einkorn sourdough crackers, usually found in the health food or gluten-sensitive departments. While Jovial says it prefers that customers support local stores, if you're stuck, the company offers its products online with free shipping at
jovialfoods.com
.
— Faith Middleton