Podcast: Play in new window | Download (Duration: 51:10 — 23.6MB) | Embed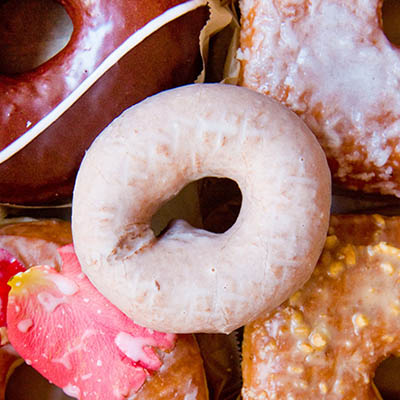 This week: a lively discussion about the wildest doughnut flavors in the country, as well as our picks for the best cakey, glazed, and jelly-filled doughnuts in Connecticut and New York. We explore the trend of the "new" happy hours—both with and without alcohol—and Carla Bartolucci, the author of the cookbook Einkorn, is our special guest. If you cook for someone with a gluten sensitivity, you won't want to miss what Carla and her husband are doing with this ancient grain. Plus, we make pizza, quick bread, and more, all with delicious, nutty einkorn.
Aired: March 16, 2017 (original air date: February 18, 2016)
Photo: doughnut plant by Garrett Ziegler/flickr, creative commons
CONTRIBUTORS AND GUESTS:
• Chris Prosperi — chef/owner, Métro Bis in Simsbury, Conn.
• Anthony DeSerio — cocktail expert
• Carla Bartolucci — author of Einkorn, co-founder of Jovial Foods, Inc.
MUSIC:
• "Got to Give it Up," Marvin Gay
• "Happy (Instrumental)," Pharrell Williams
• "Beans and Cornbread," Louis Jordan and The Tympany Five
• "Girl On Fire," Alicia Keyes
• "Good to Be Alive," Andy Grammer
• "Everybody Eats When They Come to My House," Cab Calloway