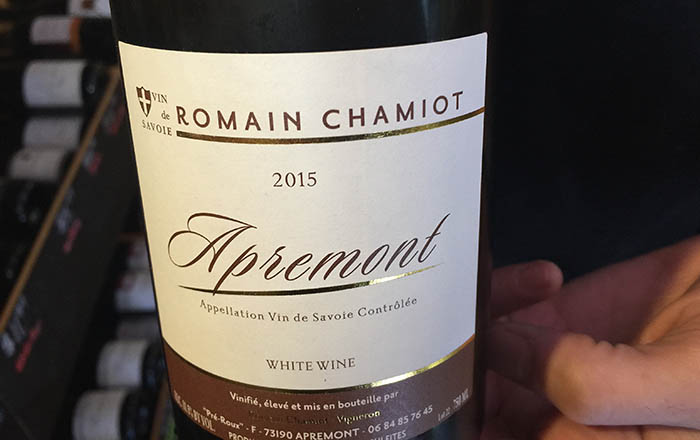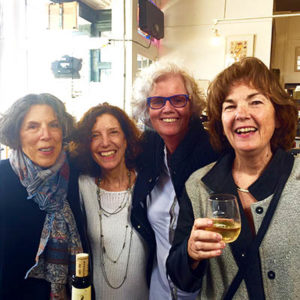 New London wine-lover JoAnn Church took me to one of her favorite shops, Universal Package Store, downtown Mystic. Thanks to the owner, what a white wine we discovered from the Savoie region at the foot of the Alps. It's called 2015 Apremont, from winemaker Romain Chamiot, who carefully harvests the grapes, adds almost nothing, and allows those grapes to really concentrate. That means he can't make as much of it, but he clearly prefers to create a beautiful wine. One of my favorite wine distributors found it —Rosenthal.
Here's a description I love from wine reviewer Codey Foster, and I think it's spot on. He writes, "This wine represents sprightly alpine terroir. On the palate, its discernibly dry with soft acids that deliver a mouthwateringly limey mineral cut. Fresh cream, wild flowers and running water. This is delicious wine. Quite simply, it tastes of the French Alps." Great description. I would only add that I taste a bit of apricot, too. I've never had a white wine like this. It's about $17-$18 a bottle.
• ON-DEMAND: Listen to Faith rave about this wine on The Faith Middleton Food Schmooze®. Subscribe to the podcast and never miss a drop of pleasure. •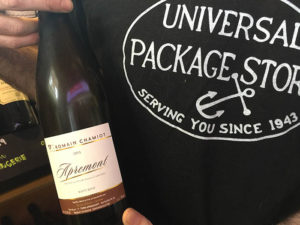 Thank you to Universal Package Store in downtown Mystic for finding this one and giving it to me and my friends to taste. They have great wine in this store.
Call ahead to your wine store if you'd like them to get a bottle for you. Please tell them the distributor is Rosenthal.
— Faith Middleon
Our tasting crew: (Names, left to right), Amy Gross, Jeanne Milstein, Faith, JoAnn Church