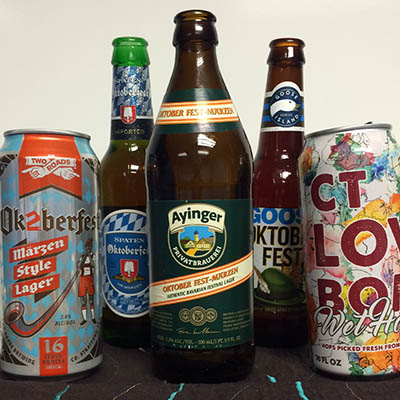 Oktoberfest, which actually starts mid-September and lasts through the first Sunday of October is the world's largest beer festival. Held in Munich, Bavaria, Germany, the official fest is one big excuse to do EXACTLY what we subscribe to on The Faith Middleton Food Schmooze®: to eat, drink, and be merry.
LISTEN: On this week's show—our last chance to celebrate Oktoberfest—Jason Sobincincki of Caseus and Ordinary in New Haven shared his favorite Oktoberfest brew, Ayinger. It's an authentic Oktoberfest Märzen-style lager. He also shared Black Hog's CT Love Bomb Wet Hops Beer, which isn't an Oktoberfest beer, but it was too good not to share with you. Black Hog is in Oxford, CT, so if you find yourself in that part of the state, DO pop in for a can. With artwork featuring local folks locked in a kiss, it's a beer a beer can with a great story to go along with its hoppy goodness.
Before Oktoberfest is done, we also recommend Two Roads Brewing Company's Ok2berfest brew. A bona-fide Oktoberfest beer, like Ayinger, it's a Märzen-style lager, and it's smooth, it's toasty, and it embodies everything we love about fall. To drink the beer at the brewery, head to Stratford, CT. To buy a 4-pack, head (pretty much) to any good package store (or even grocery) in the state. Two Roads beers are—lucky for us—everywhere.