Podcast: Play in new window | Download (Duration: 50:50 — 23.4MB) | Embed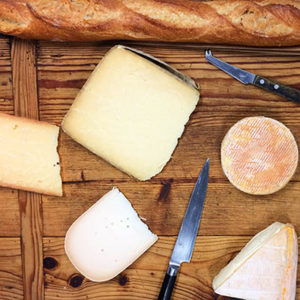 Cheese lovers, this one's for you. This week, New Haven cheese expert Jason Sobocinski—one of our all-time favorite guests—joins the party once again with ideas for your fall cheese plate. Alex Province pours both a red AND a white wine to go with those cheeses, and Chris Prosperi shares a quintessential Oktoberfest meal: bratwurst and sauerkraut. Make it for the weekend tailgate. It's a winner. There's beer, too! Jason shares an authentic Bavarian festival Märzen-style beer, and we revel in a smooth Oktoberfest brew from Two Roads (located right here in Connecticut). Ein Prosit!
Aired: September 29, 2016
CONTRIBUTORS AND GUESTS:
• Chris Prosperi — chef/owner, Métro Bis in Simsbury, Conn.
• Alex Province — wine expert
• Robyn Doyon-Aitken — senior producer
• Jason Sobocinski — cheese expert, owner (and/or partner) of foodie destinations around the state: Caseus Formagerie & Bistro, Ordinary, The Cheese Truck,  The Mystic Cheese Company, and Black Hog Brewing Co.
MUSIC:
• "Give Up the Funk," The Funk Federation
• "Ein Prosit," Unknown
• "Everything I Do Gonh be Funky (From Now On), Madeleine Peyroux
• "Everybody Eats When They Come to My House," Cab Calloway