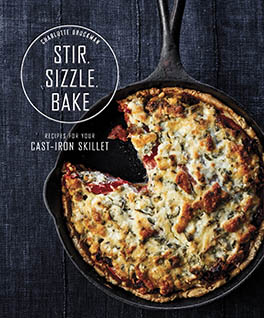 Everybody knows how wonderful a cast-iron skillet is for making cornbread, biscuits, cobblers and other classics. We love those recipes. Now, modernist skillet cook, Charlotte Druckman, has kicked it up a notch in her book, Stir, Sizzle, Bake: Recipes for Your Cast-Iron Skillet.
Druckman offers cast-iron skillet recipes that are interesting, international, complex in some cases, and using ingredients you might not associate with cast iron. Whether you want to go complex, or keep it simple, you'll find something worth pulling your skillet out for (if yours doesn't have a permanent place on the stove already).
We had a blast talking with Charlotte about how versatile the cast iron skillet can be and how and why she uses this humble pan to think outside the box.
— Faith Middleton
Click the links to get a taste of the recipes in her book. Listen to The Faith Middleton Food Schmooze® to hear her describe the recipes below, as well as how to clean your cast-iron skillet.
Lazy Cheese Arepas with Slaw
Carrot-Currant Crostata
Wholesome Apple-Quince Pie