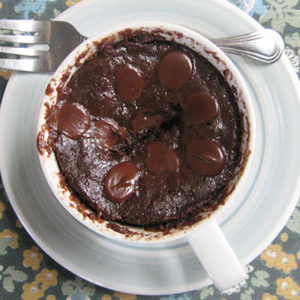 Need an instant dessert? Here's one of Chris Prosperi's all time favorites. Food Network's Instant Chocolate Cake (in a mug!) is perfect for when you need a chocolate fix in a flash (literally, this one bakes up in your microwave, which is sort of like a flash).
ON-DEMAND: Listen to Faith and the gang brainstorm more ideas for instant desserts.
Chris originally saw this mug-o-fun being made during Disney's Food and Wine Festival—by some big name chefs, mind you. Think of what you can add to these! Options: Dark chocolate chips, espresso powder, toasted walnuts, a teaspoon of Nutella (swirl it), salted caramel, or a dollop of jam.
Once zapped in the microwave, plop the cake out on a plate or leave it in the mug and top with a scoop of ice cream.
Photo: Jeanne/Flickr, creative commons