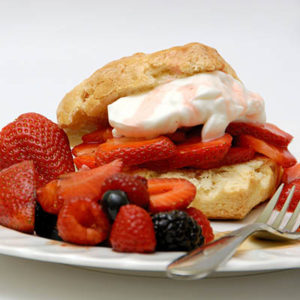 Say the words with me…two ingredient cream biscuits. No way? Think again, my friend. These biscuits are as good as they are simple. Two ingredients, self-rising flour and cream. No tricks, no special technique. Mix it up quickly in a bowl and roll and cut for flaky biscuits, or use a scoop for drop biscuits. Pop the dough in the oven and you're done. Delicious, airy hot cream biscuits!
• ON-DEMAND: Listen to Faith and the gang discuss the recipe for these cream biscuits. •
The key is the self-rising flour, as you'll see in this Serious Eats recipe. Think fresh berries, frozen berries, an accompaniment for barbecue or chili…endless. Want to make a sweet strawberry shortcake? Just add sugar. And for a version of these simple biscuits some people with gluten sensitivity can enjoy, simply swap in einkorn flour for the self-rising flour and add 2 tablespoons of baking powder to give your biscuits a little rise. (Some people with gluten sensitivity are able to tolerate einkorn flour.)
They're just a wow. Brunch is born again.
— Faith
Photo: Taku/Flickr, creative commons