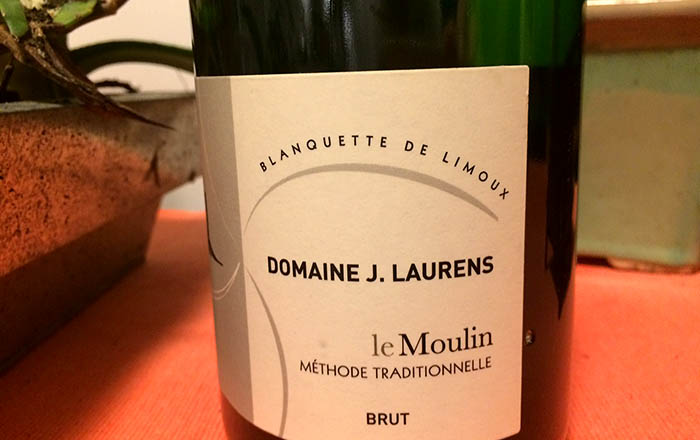 If you're home or at a restaurant and want a sparkler, you're apt to grab a bottle of Prosecco, but Domaine J. Laurens, a French sparkling wine made in the champagne style is every bit as good (an inexpensive!) as Prosecco. Give it a try.
• ON-DEMAND: Listen to Faith and the gang describe this sparkling wine on The Food Schmooze®. • 
The winemaker describes it as having aromas of fresh fruit, like green apples and apricot. There's a bit of toasted nuances, too, and it's very fresh. You could serve it as an aperitif before dinner; I like to greet guests to our home with a glass of this. If we have them, sometimes my husband Matt and I dress it up with a raspberry in the glass. Like most champagnes, this goes well with dinner, too. Salmon is a perfect match.
But Matt and I also drink it casually, almost like beer. For example, it pairs beautifully with take out like Chinese, or Indian. The joke with champagne is it goes well with fat and salt, two of my favorite things. I love champagne, but it's very expensive and this tastes almost as good, not quite as nuanced and sophisticated, but pretty damn good considering it costs only $17. If you like the toasty, almondy flavor of champagne, Domaine J. Laurens' sparkling wine is made in that same style. And as always, it's real appellation wine, meaning it comes from a specific place and is highly regulated so there's no junk or chemicals to interfere with or manipulate the wine's natural flavor.
— Alex Province