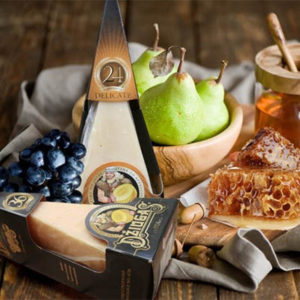 If you're lucky like us, you get things in the mail besides the standard bills and flyers from basement remodelers. This week: cheese arrived. We love mail you can eat. Dziugas is a lactose free hard cheese from Lithuania, imported by Rotarum LLC, a local Connecticut company. We received two samples, one aged at least 12 months and the other aged at least 36 months, and tasted both sans crackers or bread.
Not surprisingly, the longer-aged cheese was a favorite; "one more nibble," we all said, multiple times.
• ON-DEMAND: Listen to Faith and the gang describe this cheese on The Faith Middleton Food Schmooze®. •
Dzigas reminded Faith of a creamier version of Italy's Parmigiano-Reggiano or Grana Padano, so if you like the flavor of those cheeses, you'll like Dziugas, too. Indeed, Robyn later grated the sample wedges on to meatballs, and the cheese mingled nicely with the sauce and meat. Every bite of meatball was made better by the grated cheese.
Rotarum LLC, is in Unionville, and Dziugas is available in many cheese and fine food shops in Connecticut, Massachusetts, New Hampshire, New York, Rhode Island, and Vermont. Find your shop here.
Photo: Courtesy of Asta Plankiene, Rotarum LLC