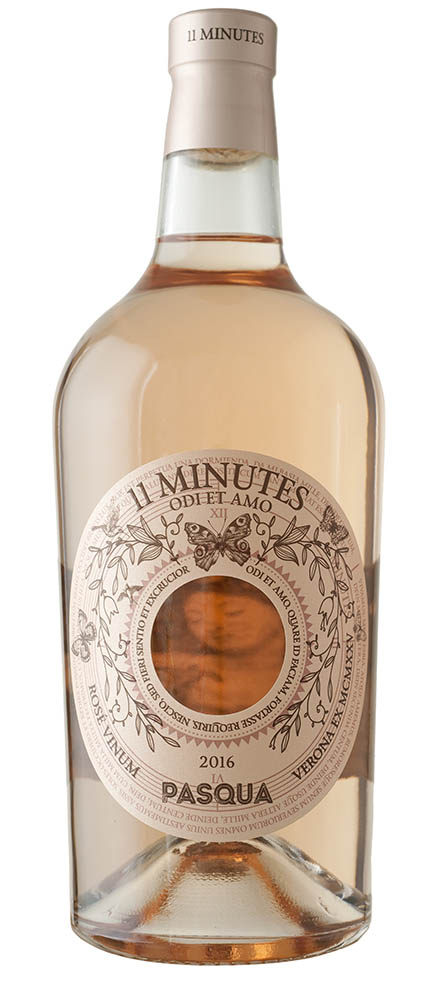 Eleven minutes of skin contact is the key to this seductive rosé's appeal. That's all the time it takes, during the first press, to impart the palest pink color to the newest wine to come out of Pasqua's vineyard (a favorite of ours in the Veneto region of Italy). Seventeen is the other important number here. At $17 a bottle, it's the value of the season.
• ON-DEMAND: Listen to Faith, the gang, and the novelist Amy Bloom describe this most-romantic rosé. •
With its peek-a-boo window, the bottle reminded author Amy Bloom of Italian movie stars of the 60s—in their pink peignoir sets. You have to hold the bottle just right to view Lesbo, the poet Catullo's muse, in all her glory. You'll want to.
The rosé is a blend of Northern Italian grapes, all from the Lake Guardia region: Corvina, Trebbiano di Lugana, Syrah, and Carmenère. It's the Carmenère that gives the wine its bright nose. You'll get strawberry notes that make you want to get the wine to your lips as quickly as possible. It's a refreshing rosé to drink, to ring in spring, to celebrate, to stock up on for the lake house.
Faith was reminded of a Sancerre while drinking this wine. That's thanks to the crispness of the Trebbiano di Lugana and the depth of the Corvina, Mark explained. Add the berry notes of the Carmenère, and you end up with what Faith called the best rosé she's had in years.
2017 is the vintage. Pasqua is the vineyard. Carolina Wine Brands is the importer. Worldwide is the distributor in Connecticut.
(Note: a 2016 vintage is pictured, but the 2017 has just been released, so look for that or ask your wine shop to order it).