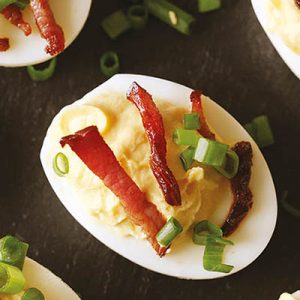 Funeral food with a twist! We talk with Perre Colman Magness, the author of The Southern Sympathy Cookbook about her often hilarious book. Love Southern food? The recipes are to die for. Plus, Amy Bloom dishes about her new novel, White Houses, and helps describe 11 Minutes, a new rosé we're wild about. Finally, Thomas Matthews, editor of Wine Spectator shares info about Mary Wade's annual wine dinner.
Aired: April 5, 2018
Photo: Buttermilk Bacon Stuffed Eggs © 2018 Perre Coleman Magness.
CONTRIBUTORS AND GUESTS:
• Chris Prosperi — chef/owner, Métro Bis in Simsbury, Conn.
• Mark Raymond — wine expert
• Robyn Doyon-Aitken — senior producer
• Amy Bloom — author of White Houses
• Thomas Matthews — executive editor, Wine Spectator (and Master of Ceremonies for Mary Wade's Annual Wine Dinner)
• Perre Coleman Magness — author of The Southern Sympathy Cookbook
MUSIC:
• "When I Die, You Better Second Line," Kermit Ruffins
• "Crush," Campsite Dream
• "Do Ya Think I'm Sexy," Rod Stewart (DNCE remix)
• "Drinkee," SofiTukker
• "Everybody Eats When They Come to My House," Cab Calloway
Note: The 13th Annual Mary Wade Wine Dinner will be held at the Omni New Haven Hotel at Yale, on Saturday, April 21, from 6-10 pm.  Donations from this year's dinner will support renovation of the Boardman Historical Building, which houses the Residential Assisted Living Center. Go to MaryWade.org for tickets and information about the event.