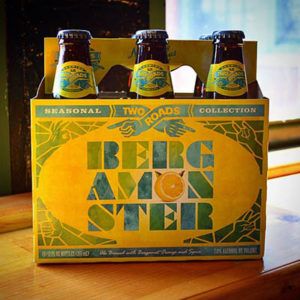 Remember the days when the best you could do was give Dad a tie for Father's Day? Well, you're grown now. Those days are over. Your father wants craft beer. Lucky for us (and you), Phil Markowski, the brewmaster from Two Roads Brewing Company in Stratford, CT, visited the show to give us a lesson on Pils vs. IPAs, and share his recommendations for the most refreshing Father's Day beers available right now.
Listen: Our Father's Day Food Schmooze® with Phil is available now for on-demand listening.
We tasted, we talked (Phil's a great guy to have a beer with), and we learned a ton about the beer-making process. We also learned that to truly geek-out on beer, we need an entire show to do it right, so we've invited Phil back during Oktoberfest. We're already looking forward to it.
Tasting Notes:
Ol' Factory – Traditional German-inspired Pils with a Two Roads twist—it's dry hopped. It's a very classic tasting beer.
Lil' Heaven – A Session IPA with low ABV (only 4.8%). It's brewed with four rare hop varieties—Azacca, Calypso, Mosiac, and Equinox. I found it grapefruity in the best possible way.
Road 2 Ruin – A Double IPA, so it's extra hoppy. It's assertive (not to be confused with aggressive) with a lean malt flavor. Open a bottle. Head out to the grill. It's what makes sense.
Bergamonster – An Imperial Wheat, this limited-release seasonal brew was my favorite. I love citrusy beer, and Bergamonster is brewed with Bergamont orange peel and spice. It's a most refreshing beer, not at all heavy, and just the thing you want to sip on with grilled salmon or chicken.
Connecticut has more than 40 independent breweries, and craft-beer making has never been more innovative or interesting than it is right now. Smart brewers like Phil are creating beers with nuance, complexity, and excellent food-pairing possibilities.
So if you really want Dad's approval this Father's Day, you can't go wrong with any of Phil's recommendations (you'll find brews from Two Roads in just about every well-stocked beer case across CT) or actually get in the car and head to Two Roads. They're open on Father's Day. You'll probably even bump into Chris.
—Robyn Doyon-Aitken
Senior Producer
Photo: Courtesy of Two Roads Brewing Company