Podcast: Play in new window | Download (Duration: 51:02 — 46.9MB) | Embed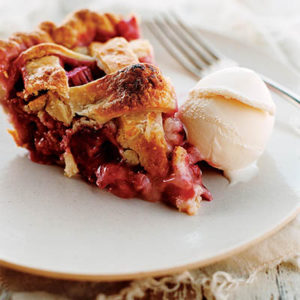 This week, Faith gets the week off, and the guys take over the show to talk Father's Day beer with Phil Markowski, the brewmaster from Two Roads Brewing Company in Stratford, CT. We all agree a Bacon-of-the-month club makes a great gift, but I still need to be convinced that dads really want (wild!) BBQ jerky. Plus, Lucinda Scala Quinn, author of the "Mad Hungry" cookbook series joins the party to help us feed the boys and men in our lives. Yes, there's grilled steak, quick fried chicken, and every dad's favorite: Strawberry Rhubarb Pie.
Strawberry Rhubarb Pie image from Mad Hungry: Feeding Men & Boys by Lucinda Scala Quinn (Artisan Books). Copyright © 2009. Photographs by Mikkel Vang.
Aired: June 16, 2016