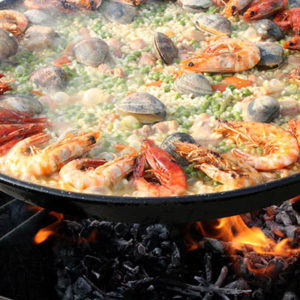 As Alex Province, our resident paella expert says, paella is 99% rice. If you can make rice, you a make paella. That's why this is more of a method than a recipe, so aside from the one formula we'll give you (and you MUST follow the formula), you can make this your own. Alex uses chicken thighs and chorizo. Chris Prosperi loves chorizo and seafood—and goes heavy on the veggies. A pinch of saffron added to the broth makes it a perfect paella, in his book.
Listen: Chris and Alex describe the way they make paella on a recent show.
The guys walked through their paella process recently, and we thought a recap would be helpful, so here goes. You don't need a paella pan, but the guys do have one. (If you don't have a paella pan, use the widest pan you have. Wide and flat.)
This is the all-important formula you'll need to know when choosing your pan (and everything else): 3 Parts Stock to 1 Part Rice.
Before you start, choose a rice that can absorb a lot of the liquid. Spanish rice is best. Arborio and Calrose are good supermarket options.
Make or buy a chicken stock. You can also use fish or vegetable stock. In a pinch, Chris uses clam juice cut 50/50 with water.
Brown your chicken in oil (using the widest pan you have if not a paella pan). Alex uses a few chicken thighs; he prefers skin-on, but it can make the paella fatty.
Once the chicken is browned, add chopped peppers, onions, celery, even tomatoes. Whatever you like.
Mix, mix, mix. Move the ingredients around in the pan; it's like you're cooking in a wok. Add salt and pepper.
If you like chorizo, add it at this point. It'll render out.
After a few minutes, push all the ingredients to the sides of the pan so the center is free.
Now, the formula: You're not going to add your stock yet, but you need to have this formula in mind for the next step – 3 Parts Stock to 1 Part Rice. (So, 3 cups of stock for 1 cup of rice, for example). Even before you start, make sure your pan can accommodate this formula so your rice doesn't spill out of the sides.
Add rice to the center of the pan and move it around a bit, cooking, until the rice becomes translucent. You haven't added your stock at this point, so the rice is cooking in the oil in the pan and any liquid released by the other ingredients.
Remember the formula: 3 Parts Stock to 1 Part Rice.
It's time to add your stock. 3 Parts Stock to 1 Part Rice. Once you've added your stock, incorporate everything: chicken, vegetables, rice, stock. Move everything around. Once it's all incorporated, walk away and let the paella cook for 20 minutes. Don't futz with it. Trust your rice will cook in 20 minutes if you've followed the formula. If you're adding seafood, add it during the last 5 minutes of cooking.
Take your pan off the heat. Cover with foil. Let the paella rest for 10-20 minutes. The toasty bits of rice on the bottom of the pan aren't burned. They're the best part. They're the reason you made paella in the first place.