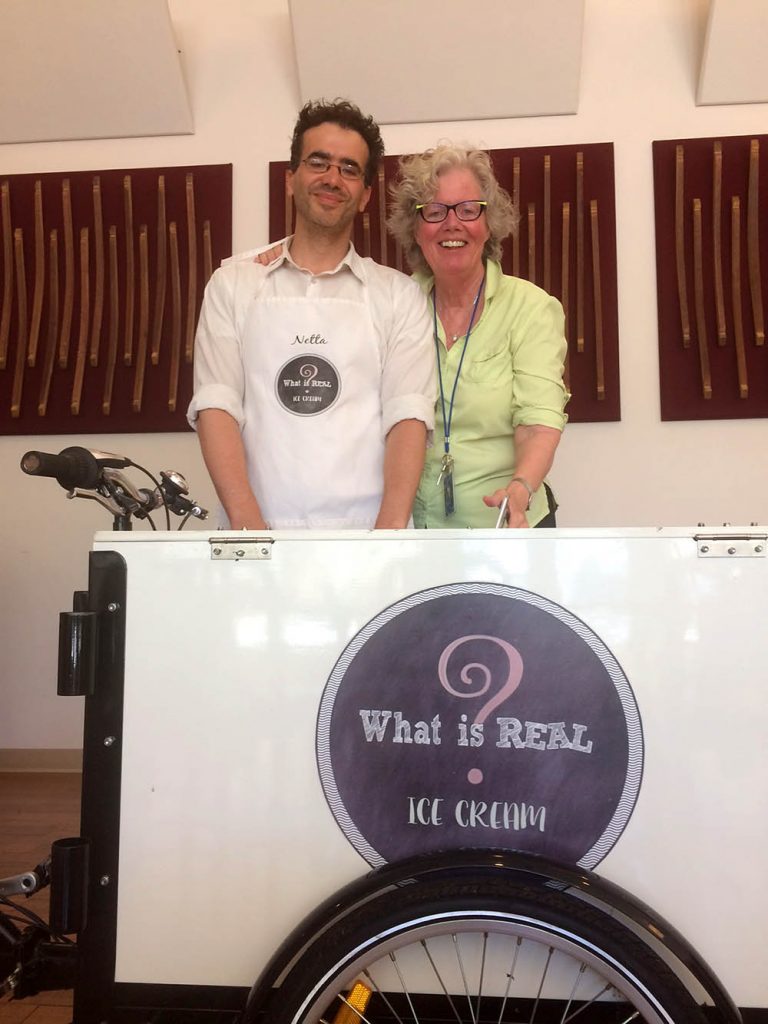 A classical violinist and conductor, it's no wonder New Haven local Netta Hadari's ice cream is a symphony of flavor. Honest flavor. Pure flavor. It's flavor born of ingredients you can pronounce by a man on an ice cream tricycle. Find Netta and his ice cream cart on his website, whatisrealicecream.com, or at local festivals, events, even weddings (yes, brides, say "I do" to an ice cream cart at your wedding and request Netta bring his Sun-Kissed Strawberry).
• ON-DEMAND: Listen to Faith and the gang rave about Netta's ice creams and learn more about the inspiration for What is Real? Ice Cream. •
The Food Schmooze® team started our ice cream tasting with the "Killa Vanilla" because THAT's the real test. When an ice cream maker has mastered vanilla, you know you're going to enjoy every scoop to come. Was it "Killa?" It was SO killa. It's the base of many of What Is Real? ice cream flavors. Netta's secret: vanilla paste.
Other reasons to invite Netta to ride his bike over to your event: Bombay Butter Pecan (just the right amount of curry powder "candies" the pecans) and the aforementioned Sun-Kissed Strawberry. Netta roasts the strawberries with balsamic vinegar and sugar then brightens the mix with lemon zest. It was eyes-roll-back good. It was going-back-for-seconds good.
This is ice cream for kids and grown-ups. And there's something here for every eater. Can't have dairy or you follow a vegan diet? Try the Vegan Mint Chocolate Chip made with cashew and coconut milks.
Netta believes in tasting. . .so take advantage of his mini scoop and try multiple flavors. Ice Cream flights (of really, really good ice cream) is what summer is all about.