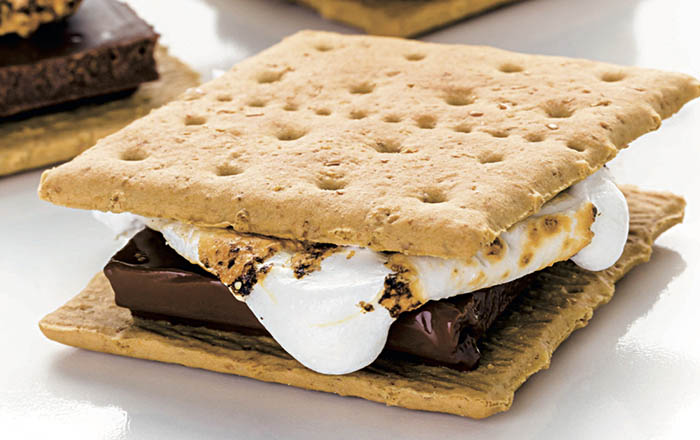 Faith calls Lisa Atwood's specialty s'mores "not-your-grandmother's s'mores" and it's an apt description. When Lisa was a recent guest on The Food Schmooze® she shared her ideas for amped up s'mores. Her favorite of the moment: a roasted marshmallow, smushed along with shmear of tart lemon curd, sandwiched between two soft ginger cookies. Course, for the kids (and adults) who don't consider a s'more a s'more without chocolate, pull out those chocolate wafer cookies and peanut butter cups. The promise of those babies are reason enough to grab the tent and sleeping bags and head for camp.
On-Demand: Listen to Faith's conversation with Lisa Atwood and get more of Lisa's grilling tips.
 S'more how-to and flavor inspiration from Lisa 
Turns out s'mores aren't just a campfire treat. They can be cooked over a grill fire, too. You can even set a hibachi in the center of the table, surrounded by cookies, candies, and marshmallows, for a dessert your guests won't soon forget. Approach the classic graham cracker combo with  a little bit of outside-the-box thinking and you may discover a toasted delicacy all your own.
KNOW THE BASICS Unless you've been living on the moon, you're likely acquainted with the nuts and bolts
of s'more preparation. Toasting a marshmallow over charcoal or gas isn't much different from roasting one over a campfire. For charcoal toasting, the coals should
be well covered with gray ash and burning with low, hot flames. For toasting over gas, remove the grill grates and turn the heat to medium-high. When the fire is hot, stick a marshmallow on the end of a long stick or skewer and brown over the heat, turning to color evenly, until crisp on the outside and soft in the center. Sandwich between two graham cracker squares, add a square of chocolate, and you're good to go!
GET CREATIVE Once you have the basic technique down, you can start getting creative. When it comes to pairing possibilities, the sky's the limit. Along with plenty
of marshmallows for toasting, mix and match some of these scrumptious additions.
COOKIES
Graham crackers, chocolate graham crackers, Oreos or wafer cookies, chocolate chip cookies, peanut butter cookies, crispy-rice treats, ginger cookies, waffle cookies, snicker doodles, French macarons
FILLINGS
Chocolate, Nutella, peanut butter, dulce de leche, caramel, thin mint-filled chocolates, thin caramel-filled chocolates, toasted coconut, candied bacon, sliced bananas, sweetened sliced berries, peanut butter cups, KitKat bars, chocolate-covered pretzels, sliced candy bars, lemon curd
POSSIBLE COMBOS
Peanut butter cookies + Nutella + banana
Chocolate graham crackers + mint-filled chocolate
Ginger cookies + lemon curd
Graham crackers + dark chocolate + salted caramel + candied bacon
Chocolate wafers + peanut butter cup
Graham crackers + caramel + toasted coconut + dark chocolate
Waffle cookies + sweetened fresh strawberries + Nutella
Excerpted from The Total Grilling Manual: 264 Essentials for Cooking with Fire. Edited by Lisa Atwood, © 2016 Weldon Owen, Inc. Photo: Shutterstock