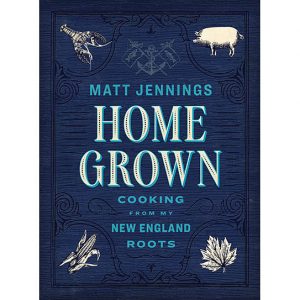 Boston-based chef Matt Jennings gets you right from the Introduction, in his debut cookbook, Homegrown: Cooking from my New England Roots:
"When I say that I cook New England food, this is what I mean: a cuisine rooted in early American history, altered by immigrants from all corners of the globe, and further informed by my own travels around the world. When I cook, the food I make celebrates this region: its ingredients, geography, and climate, its history and traditions. . .I hope Homegrown gives you a glimpse—and a taste—of the place I'm proud to call home."

• ON-DEMAND: Listen to Faith and the gang talk to Matt Jennings about this book—and the recipes in it—on The Faith Middleton Food Schmooze® •
Homegrown is filled with New England favorites from clam chowder to whoopie pies, and every long-cooked and grilled thing in between; we had Matt's Short Ribs with Moxie Beans for our pre-show meal. To say it hit the spot is an understatement. Think of Matt's recipes as New England cooking with a delicious, innovative spins. We couldn't get enough.
If you ever feel like New England's cuisine is somehow less vibrant than the other regional cuisines—or you're surprised to learn we even have a cuisine in these parts (oh, come on!)—Homegrown gives you a new appreciation for fresh traditional northern ingredients. Keep your avocado toast, California! We're good with just about anything Matt Jennings dishes out.
Get a taste of the recipes in Homegrown:
Milk-Braised Chicken Legs with Spiced Rice
Braised Short Ribs with Moxie Beans
Chocolate Beet Cake with Chocolate-Orange Glaze