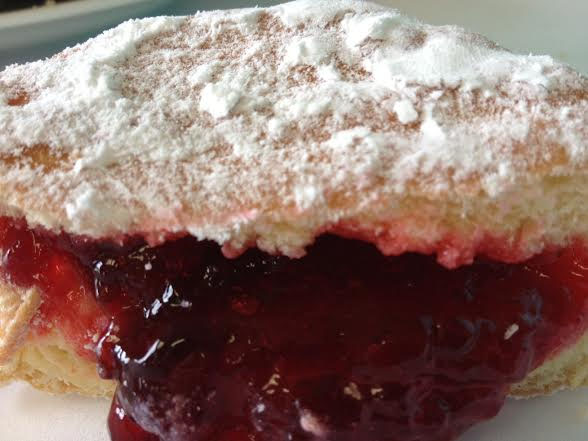 (Pictured above, the Jelly-Filled from CT's own Whitney Donut and Sandwich Shop/Facebook)
From Faith — Humans consume billions of doughnuts every single year. Get your statins at the door, folks! After cruising the internet and old-school print publications, we have a roundup that includes doughnuts we didn't think possible — liquor-filled, cookie-filled and even a doughnut covered in 24-carat gold. Here you go:
• ON-DEMAND: Listen to Faith and the gang go 'round about their favorite doughnuts in our region—and beyond. •
1. Hypnotic Donuts in Dallas (of course) sells what they believe is the world's spiciest doughnut, Devil's Death Dance, stuffed with slices of jalapeno, serrano and habanero peppers and topped with an incendiary ghost pepper icing. Be afraid, very afraid.
2. Psycho Donuts in California has teamed up with a movie club to sponsor movies where you eat their memorable doughnuts, such as the Dead Elvis, filled with custard and topped with peanut butter, sliced bananas, bacon and jelly. But wait, there's more…They make a tequila-centric Margarita doughnut laced with tequila cream and topped with strawberry icing and flecks of Margarita salt.
3.
NYC's
Doughnut Plant
on the Lower East Side has a big fan following, though I'm not exactly knocked out by their well-known and weighty glazed orb. Among the best sellers there, which I've never tried, is the Tres Leches Cake.
4.
If you're on your way to or from LAX Airport in L.A., doughnut-lovers rave about
Randy's
, near the airport and recognizable by its sky-high sign. Customers are especially nuts about the Buttermilk Crunch.
5.
If you're into DIY, check out the
Oreo-Filled Doughnut recipe
at
ohbiteit.com
.
6.
Remember the nasty trend of studding your mouth with real gold front teeth? I find myself wondering if any of those "trend-setters" showed up to try the 24-carat gold doughnut, offered at $100 a pop, at
Manila Social Club
in Brooklyn. The club specializes in Fillipino food and the chef says he created the edible gold icing for his expensive doughnut to pay tribute to his family during the holidays. The doughnut has a Roderer Cristal cream inside. Interestingly, you won't find the club's breakfast jewel on the current menu. In one online video, the chef says his creation was both well-received and criticized. Perhaps he's too young to recall the very brief appearance of the $1,000 omelet at The Parker Meridian Hotel in New York.
7. Glaze Donuts
in New Milford, N.J. is known for its Calzonut, merging the doughnut with the calzone. (Take that Ansel cronut fans in NYC!) The calzonut is a made-to-order yeast crescent-shaped doughnut, filled with fresh mozzarella then dipped in cinnamon-honey syrup.
Let's pause now to contemplate this…just because you can think of it doesn't mean it's a good idea. I'm just saying.
8.
Here's one that belongs in Vegas…At
Voodoo Doughnut
, based in Oregon, a whistle blows every so often and that means it's time to get married and eat doughnuts, which people seriously do, united by the ordained employees on staff. Are there custom-made doughnut rings? Also, same-sex marriage is a problem? Really?
A FEW CONNECTICUT  FAVORITES
If you have a favorite doughnut shop, please tell us
on our Facebook page
.
Like Jane and Michael Stern of Road Food, I think
Dottie's Diner
in Woodbury makes a very good cake doughnut but get them early; they lose a little something if there are any left at noon. Having started with Dottie's, I can sense smoke coming out of some ears. We are an opinionated fan base when it comes to doughnut love…
No kidding, the jelly doughnut at
Whitney Donut and Sandwich Shop
in Hamden is a wondrous thing, oozing jam and light as a feather.
Our friends at Saveur magazine selected
Neil's Donuts
in Wallingford as one of the Best 50 Doughnut spots in America. And plenty of folks in the Nutmeg State love Neil's too. Blueberry crumb and raspberry jelly are favorites, but they make more than 30 varieties daily. The peak ordering time is around 9 a.m. so be prepared to belly up to the counter.
Flanders Donuts
, East Lyme, isn't fancy. They put their time and money into fresh bagels and doughnuts. No wonder they have such a loyal following.
A Chris Pick:
Orangeside
, right here on Temple St. in New Haven. They're square, unique—and not to be missed.
Cider doughnuts, anyone? I'm a big fan of them and even had the nerve to serve some locally made ones to Jacques and Gloria Pepin when they came to dinner. I served the cider doughnuts warm from the oven and topped them with a touch of vanilla ice cream. If they're made from scratch instead of a mix brought in, I can almost guarantee they're going to be good.
Reader Interactions