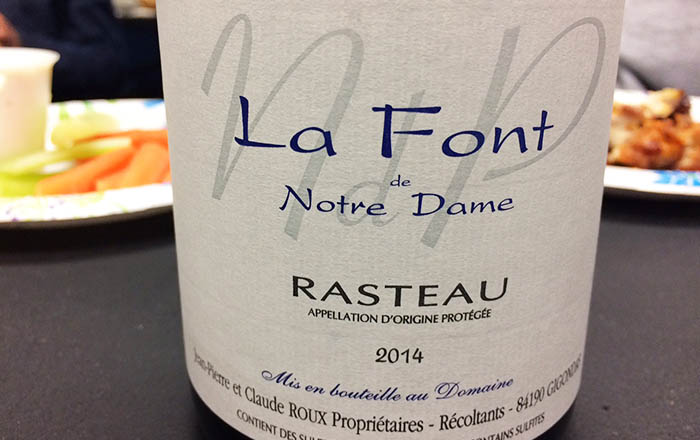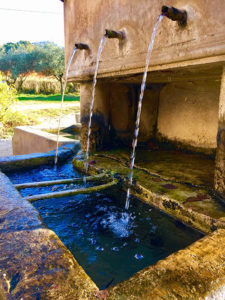 It was the actual fountain (as in, the "Font de Notre Dame") that we noticed first when pulling into the dusty winery in southern France; this rustic little fountain dripping spring water into a tranquil pool was actually sought out during the Dark Ages of Europe in hopes of curing the Black Plague!
The winery La Font de Notre Dame is located in a remote town called Gigondas. It's here where they grow the Grenache and Mouvedré grapes that will go into their famous Gigondas wine.
Just down the road from here is another hilltop town called Rasteau, and on the very tippy top of the hill is where their Grenache grapes are grown for the Rasteau label. The soil up there is very unique and chock full of polished smooth tan stones. These rocks absorb the sunlight's energy during the day, then at night,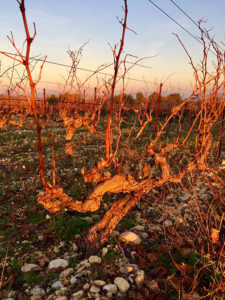 when it's very cold out, radiate this stored heat up into the growing vine.
• ON-DEMAND: Listen to Faith and Alex Province describe how this wine pairs with chicken wings. •
Rasteau pairs with many flavorful foods like garlic and rosemary marinated lamb chops, Moroccan tagines, and grilled sausages for example, but they're also among the few wines that work especially well with spicy foods. Paring wine with spice can be tricky because wines that have lots of tannins (the mouth drying astringent sensation—think Cabernet Sauvignon) don't taste good when paired with spicy foods like many spicy Asian dishes, or, in this case, Buffalo chicken wings. But wines like this with Grenache have lots of juicy fruit and are light on tannins, so they work beautifully.
La Font de Notre Dame Rasteau is rich and deep in color. When you take a sniff, you'll get ripe berries and spice, and after sipping, you'll taste fruity rich black berries, plums, and dark coffee. It's our go-to wine for spice!
Winebow is the distributor and price should be around $20.
Cheers!
Alex Province