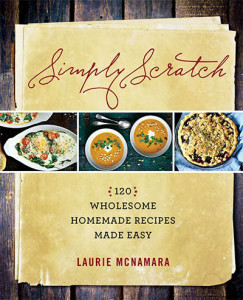 Food blogger (and now cookbook author) Laurie McNamara is on a mission. It's a mission that all of us at The Faith Middleton Food Schmooze® can really get behind: Laurie not only strives to cook from scratch at every opportunity, but she also develops easy recipes so you can cook from scratch, too.
Simply Scratch: 120 Wholesome Homemade Recipes Made Easy is the book based on the blog that got our office buzzing while prepping for our recent celebration of all-things brunch. You'll find plenty of recipes for all courses in Laurie's book, but do what we did and start with her breakfast and brunch recipes. Stand-outs are her Vegetarian Polenta Skillet, Lazy Weekend Waffles, Lemon Ginger Scones, and classic, crispy homefries (just the way we like 'em).
And drum roll. . .
Her recipe for Tomato, Spinach and Parmesan Baked Eggs goes down in Food Schmooze® history as the best baked egg dish we've ever tasted. Easy, delicious, and SO being served at every brunch we host from here on out.
—Robyn Doyon-Aitken
Senior Producer