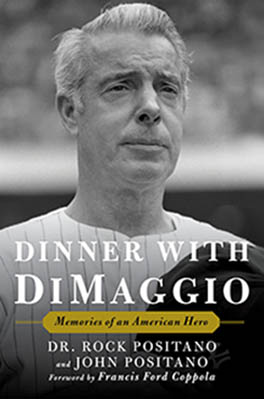 There are three things author Dr. Rock Positano wants you to know about his book, Dinner with DiMaggio. 1. It is not a book about baseball. 2. It is not a book about Marilyn Monroe. 3. It is not a tell-all book. Dinner with DiMaggio is a book about the close friendship Positano and baseball legend Joe DiMaggio shared during the last decade of DiMaggio's life. New York City is a central character in the memoiresque collection of never-before-told stories. While DiMaggio may have been a complex figure, their friendship was an easy one, based on trust and loyalty, and Positano's gift for "keeping his mouth shut." Everyone needs a friend like that.
• ON-DEMAND: Listen to Faith and Dr. Positano talk about Dinner with DiMaggio, as well as the best spots to eat in New York City right now. •
Luckily for us, Positano doesn't keep his mouth completely shut. Readers who understood DiMaggio to be guarded, private, even aloof, will get to know a DiMaggio who is charming, sensitive, kind, and generous. Yes, he was intensely private during a time when privacy was largely achievable, but he was not a recluse. DiMaggio was a man who valued sitting down with family and friends for a good meal. Rock Positano had a seat at the table—and the good sense to take notes.
— Robyn Doyon-Aitken
Senior Producer