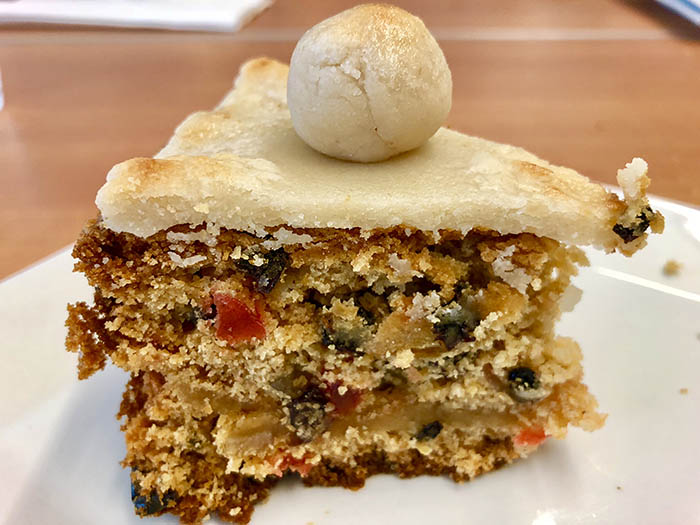 We're used to Food Schmooze contributor Alex Province introducing us to interesting wines from all over the world, but this week, Alex treated us to a unique holiday cake we'd never tasted before. The Easter Simnel Cake (think: spiced fruit cake, but with layers of marzipan and symbolism) came to Alex via his cousin-in-law, Mary Colby, our new baking hero.
• On-Demand: Listen to Faith and the gang describe this cake on The Faith Middleton Food Schmooze®. • 
Mary, an engineer by trade, is an avid baker. But while Mary's baked her way through Mary Berry's Baking Bible, she doesn't eat the delicious treats she bakes, she gives them away. She takes her baked goods to work or sends her husband off with them. And in this case, Mary Berry's Easter Simnel Cake landed on the doorstep of Alex, and luckily for us, Alex shares all delicious discoveries with his Food Schmooze friends.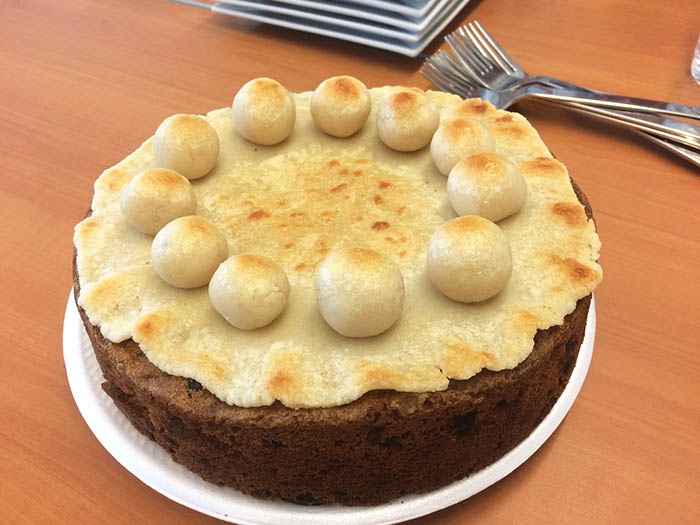 The Easter Simnel Cake is similar to a Christmas fruit cake, but it's round and a little more interesting, if you ask us. It's spicy, with a mix of cinnamon, nutmeg, ginger, and cloves or allspice. The British fruit cake incorporates layers of almondy marzipan and warm apricot jam, and it would be divine with a good cup of coffee or tea.
You can learn more about Simnel Cake on its Wiki page and you can see all the recipes Mary Colby made from Mary Berry's Baking Bible on Mary's Tumbler, MaryColbyBakes. We don't recommend visiting the page hungry.