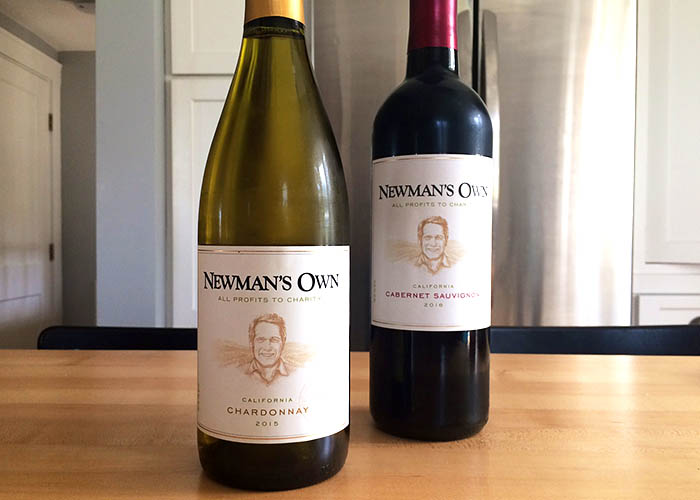 During a visit to Newman's Own in Westport, CT, we were lucky enough to sit at the table with friend of the late Paul Newman and Newman's Own wine expert Mike McGrath, who turned us on to two great Napa-style wines for $10 a bottle. The first was a perfectly balanced Chardonnay. The second, a sporty, go-with-anything Cabernet Sauvignon. Casual summer parties? You're all set.
• ON-DEMAND: Listen to Faith and the gang enjoy this wine on an episode of The Faith Middleton Food Schmooze®. •
Back in 2007, Paul, who according to friends had an amazing palate, selected the wines, which are made by Sarah Gott, the wife of Joel Gott —the Gotts are famous winemakers in Napa. You'll find the Cabernet to be food-friendly, soft in the mouth, rich with plum and dark fruit and berries, with just a whisper of tannins.
The Chardonnay couldn't have gone better with our chopped salad and chicken fajitas. It's got the right amount of oak (Paul couldn't stand Chardonnays with an obnoxious amount of oaky flavor). We know hit-you-over-the-head oak is out of favor these days, so Paul was ahead of his time.
Consider the two your new weeknight table wines. Both are an exceptional value. Not having these with food? They pair well with Butch Cassidy and the Sundance Kid!
You will likely see Newman's Own wines anywhere you buy wines in our region, but if you don't, tell your wine shop Newman's Own wines are distributed by Connecticut Distributors. They'll look it up in their book and have it for you in no time.
Disclosure: Newman's Own Foundation is an underwriter with WNPR, NPR, and other public radio stations.
Also note: We think our listeners understand this, but to be clear, neither Faith—nor anyone on The Food Schmooze® team—would recommend a wine, food item, or restaurant they didn't find delicious and noteworthy.