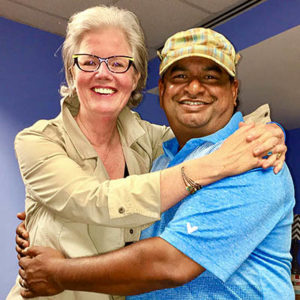 Have you been to the new restaurant INDIA in West Hartford yet? Chef and owner Prasad Chirnomula joins the party with dishes from his new hot spot. Plus street food favorites and an $11 rosé we're crazy about. Faith also shares a Klondike® Bar hack and a tip for zero-calorie strawberry flavored water. Our restaurant shout-out this week goes to Citta Nuova (New City) in the Hamptons, where Faith enjoyed modern Italian and the best linguine and clams she's had in a long time.
Aired: June 22, 2017
Photo: Alex Province
CONTRIBUTORS AND GUESTS:
• Chris Prosperi — chef/owner, Métro Bis in Simsbury, Conn.
• Alex Province — wine expert
• Mark Raymond — wine expert
• Robyn Doyon-Aitken — senior producer
• Chef Prasad Chirnomula — chef/owner of INDIA in West Hartford, Conn.
MUSIC:
• "Chaiyya Chaiyya/Don't Stop (mash up)," Vidya Vox feat. Sam Tsui and Shankar Tucker
• "Be Free/Pallivaalu Bhadrara Hakam (mash up)," Vidya Vox feat. Vandana Iyer
• "Beans and Cornbread," Louis Jordan and The Tympany Five
• "Lean On/Jind Mahi (mash up)," Vidya Vox feat. Ricky Jatt, Raashi Kulkarni, and Raginder Momi
• "How Deep is Your Love/Balam Pichkari (mash up)," Vidya Vox feat. Shankar Tucker
• "Everybody Eats When They Come to My House," Cab Calloway