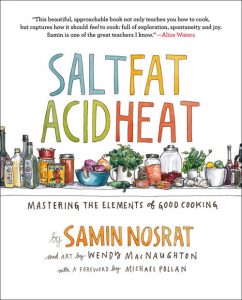 There are four things you need to understand to become a more confident, intuitive cook: Salt, Fat, Acid, Heat. Understanding them, and their interplay with ingredients, helps you become the kind of home cook who can go beyond merely following a recipe. Mastering the elements (and principles) of good cooking requires a good teacher. (No one does it alone!). Enter Samin Nosrat.
• ON-DEMAND: Listen to Faith and Samin talk about the philosophy behind Salt, Fat, Acid, Heat. •
Regardless of where you are in your cooking journey (maybe you're a professional. Maybe you're a total newbie) Salt, Fat, Acid, Heat needs to be on your shelf—or better still—cracked open on your kitchen table. In these pages, and with Samin's generous guidance, you'll learn everything you need to know to turn simple food into soul-satisfying food. It's not about the recipes. It's about the how and the why. The cause and effect. It's cooking by understanding. Think about what you want from a meal—any meal—and work backwards calling on the understanding you have of how salt, fat, acid, and heat transform ingredients. Get ready to become a better cook.
Get a taste of this book:
Caesar Salad (a lesson in layering Salt)
Pasta alle Vongole (a lesson in layering Acids)
Silky Corn Soup