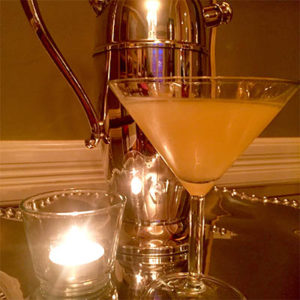 I asked my wine shop friend, Jacob, for a fun spirit and he instantly reached for a bottle Pamplemousse Rose liqueur and gave me his recipe for a "Take the Nickel." It's very easy to make and lip-smackingly fresh and delicious.
The rose, which is really grapefruit and not rose at all, is mixed with rum, white vermouth, and fresh citrus (hence the lip-smacking). When I make this at home, I use the juice from a Meyer lemon, my favorite.  It's the perfect spring cocktail.
By the way, I have no idea why it's called "Take the Nickel," so if you know, please add your two cents in the comments.
—Alex Province
Could you use a little more party? Listen to the Faith Middleton Food Schmooze® Martini Competition preview show and get your tickets to the party of the year.

In a shaker filled with ice, add all ingredients and shake until icy cold.

Strain into a martini glass and garnish with a lemon twist.