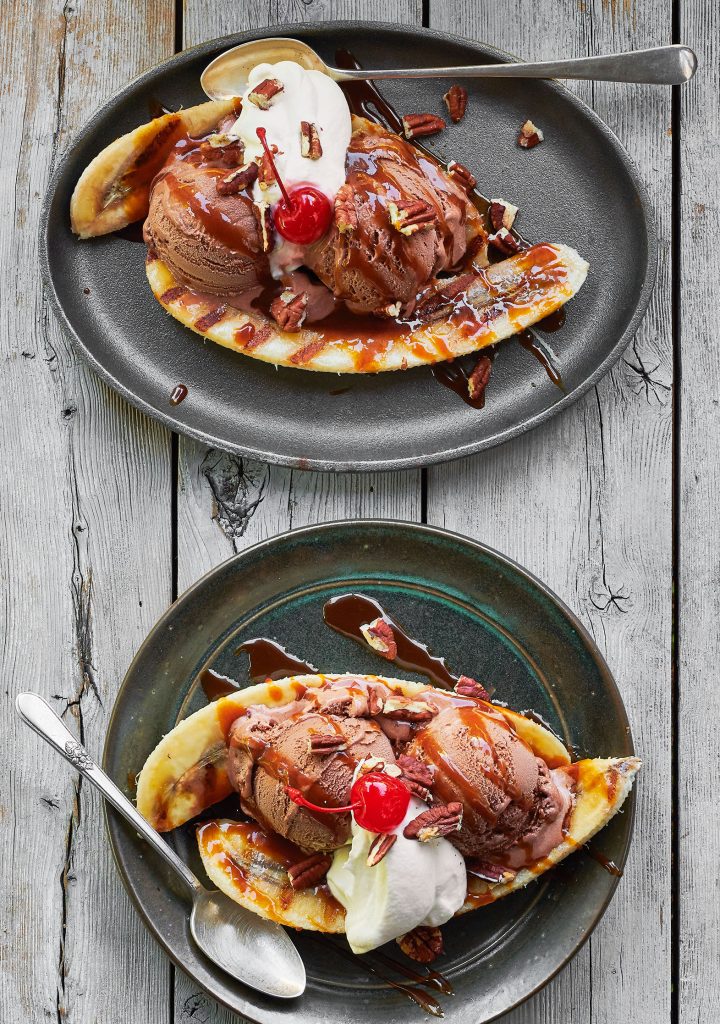 Mushy, brown bananas need not apply here. The fruit needs to be firm and just ripe to stand up to the grill's heat. Leaving the skins on the split halves will help the bananas keep their shape. We'll be honest: the sauce is sort of the best part.
—Jamie Purviance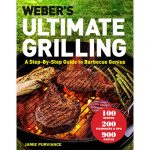 Excerpted from Weber's Ultimate Grilling © 2019 by Jamie Purviance. Photography © 2019 by Ray Kachatorian. Reproduced by permission of Houghton Mifflin Harcourt. All rights reserved.

For the salted caramel sauce
Prepare the grill for direct cooking over medium heat (350° to 450°F). In a heavy saucepan stir together the sugar and water and place over high heat on the stove. Bring to a boil, swirling the pan gently, until the sugar dissolves. Brush down the sides with a wet pastry brush to pre-vent sugar crystals from forming.

Boil, without stirring, until the syrup turns a deep amber, occasion-ally swirling the pan and continuing to brush down the sides with the wet pastry brush, 7 to 9 minutes. Remove from the heat.

Stand back while carefully adding the cream, bourbon, vanilla extract, and salt (the mixture will bubble up vigorously). Stir with a heatproof rubber spatula until smooth, briefly placing the pan back over low heat if needed to dissolve any caramel bits. Set aside off the heat.

Cut each banana in half lengthwise, leaving the skin attached (to help the bananas hold their shape on the grill). Brush the cut sides with the butter. Brush the cooking grates clean. Grill the bananas, cut sides down, over direct medium heat, with the lid open, until warm and well grill-marked on the cut sides but not too soft, 2 to 3 minutes.

Remove from the grill. Peel the banana halves, then leave them in halves or cut each half in half again and set aside.

To serve, place 2 scoops of ice cream in each of four bowls. Gently set the banana pieces on opposite sides of the ice cream in each bowl. Drizzle each serving with the caramel sauce, top with the whipped cream, and garnish with the pecans and cherries, if using. Serve immediately.
WHIPPED CREAM
1-1/2 cups heavy whipping cream
2 tablespoons sugar
1 tablespoon pure vanilla extract
1. In a bowl combine the cream, sugar, and vanilla and whip with a whisk or handheld beater until soft peaks form. If desired, cover and chill the whipped cream for up to 1 hour before serving.