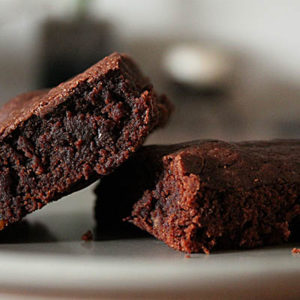 These brownies  are a university favorite, so you can bet that Robert Landolphi, the culinary director at UCONN, makes hundreds of batches to feed thousands of students each week.
From Quick-Fix Gluten Free by Robert M. Landolphi/Andrews McMeel Publishing
Read our review to learn more about Quick-Fix Gluten-Free, and to hear Robert describe many of the recipes in the book,  listen on-demand to the episode where he was our special guest.

Preheat the oven to 375°F and butter an 11 by 7-inch pan.

In a small bowl, whisk together the beer and molasses; set aside.

Using an electric mixer, beat together the eggs and sugar until light and airy. In a small saucepan over medium heat, melt the butter, semisweet chocolate, and white chocolate together, stirring constantly until smooth. Add to the egg mixture and beat until blended.

In a medium bowl, sift together the flour and cocoa; then add to the mixing bowl and continue beating until incorporated. Remove the bowl from the mixer and whisk in the beer and molasses until a smooth batter forms. Pour into the prepared pan and bake for 30 to 35 minutes, or until a toothpick inserted into the center comes out clean. Remove from the oven and allow to cool completely before cutting and serving. The brownies can be stored in an airtight container for up to 1 week.