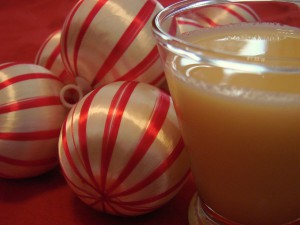 To make the best eggnog, you need balance…a taste of booze mingles with cream and spices, but doesn't weigh you down. Faith asked regular contributor Alex Province and spouse Matthew Bennett to give you "the family recipe," which is truly well balanced and delicious, just what a top-rated eggnog should be. Needless to say, the second best thing about this is that its made in advance and signals a traditional seasonal welcome.

Beat egg whites until soft peaks form, using a whisk or electric stand mixer.

Slowly add 3/4 cup sugar, whisking to incorporate and gently pour into punch bowl.

Beat egg yolks with remaining 3/4 cup sugar until combined and gently pour into punch bowl, folding into egg whites to combine.

Slowly add rum, bourbon, milk, and vanilla bean to punch bowl, again folding to combine.

Whip the cream until firm, then fold into punch bowl.

Garnish with freshly grated nutmeg.