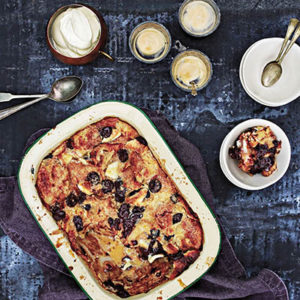 This dessert is a big hit at parties in the Hollywood Hills, especially in the cooler months. It's probably one of my most deceptive desserts—everyone thinks it's complex to prepare, but it's one of the simplest desserts in my repertoire. When the bread pudding is firm to the touch, you know it's done.
From Quick Six Fix: 100 No-Fuss, Full-Flavor Recipes by © 2016 by Stuart O'Keeffe with Kathleen Squires. Published by William Morrow, An Imprint of HarperCollins Publishers. Photo by Joanne Murphy.
Listen to Stuart describe this recipe on The Faith Middleton Food Schmooze®.

Preheat oven to 375˚F. Butter the bottom of a 9 x 5 x 3-inch baking dish with your hands.

In a large bowl, whisk whole eggs and yolks, cream, and milk with the ½ cup brown sugar and vanilla extract.

Tear up croissants and mix with egg mixture until well combined.

Spoon half of the egg croissant mixture into the baking dish, sprinkle with dark and white chocolate chips, top with more egg croissant mixture, and finish with remaining chocolate. Sprinkle with 1 tablespoon brown sugar.

Place the dish on a rimmed baking sheet and bake in the oven for 15 to 20 minutes, or until firm to the touch.

Remove from oven. Serve with a dollop of crème fraîche or whipped cream.
Tips: Ask your baker for marked-down croissants at the end of the day.
Feel free to substitute brioche or challah for the croissants.