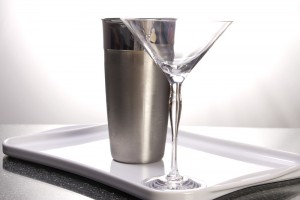 From Faith: When I asked our new contributor, Connecticut bartender Anthony DeSerio, to come up with a healthy, low-cal cocktail that wouldn't cost a fortune, he knew just what to do. I love his Bloody Healthy Mary Martini because it's a riff on an Italian Caprese Salad. How did he come up with it?
"If you want to be calorie-friendly, juices are the way to go, especially paired with vodkas and gins," Anthony explained. "While I was bartending in a Hartford restaurant at brunch, a customer wanted something light and wondered if it was possible to make a Bloody Mary Martini. That's when I noticed he had ordered the Caprese Salad, so I used that as a reference to create this Bloody Healthy Mary Martini, which I affectionately refer to as Caprese Be with You."
You can use gin or vodka, and if you're having a really good time, you can stuff some green olives with skim mozzarella cheese, as Anthony does. Terrific job, Anthony.
(Anthony DeSerio, a regular Food Schmooze® (r) listener, is an award-winning bartender, and member of the U.S. Bartenders Guild in Connecticut.)

Take equal amounts of salt and pepper, combine and set aside.

In a cocktail shaker or glass jar with a lid, combine 3 cherry tomatoes with the teaspoon of balsamic and add the basil leaves. Use the back of a spoon to crush the mixture until the cloudy tomato-water is pressed out. Add 2 oz. of cucumber vodka or gin and ice cubes. Cover and shake vigorously. Wet the rim of your martini or cocktail glass and dip it in the salt-pepper mixture, dusting HALF the rim.

Strain the contents of your shaker to remove the tomato pulp and basil. If you'd like, stuff your olives with skim mozzarella cheese and skewer them before dropping them in. (You can serve them plain and not skewer them, of course.)