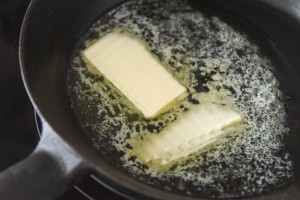 Soon potato salad will grace every summer get together, and we thought we'd offer some of our favorite go-to recipes. Some time ago I shared my recipe for a BLT Potato Salad, combining chopped iceberg lettuce, crumbled crispy bacon, mayo and halved cherry tomatoes. That's a made-up recipe, of course, combining texture and flavors that sound good to me, so back to the drawing board I went, pondering another flavor combination. Why not Brown Butter Potato Salad with Capers and Lemon? Borrowing from the French and Italians, who put this "meuniere" sauce on fish, it just made sense to me to put it on a neutral ingredient like potatoes.

Place cooked, drained potatoes in a large bowl.

To make brown butter, place butter in a skillet on medium heat. Cook until the butter turns light golden brown (not dark brown) and gives off a nutty aroma.

Add the fresh lemon juice capers, and scallions, and stir. Remove the pan from the heat and pour the mixture over the bowl of cooked potatoes. Toss well. Add salt to taste.